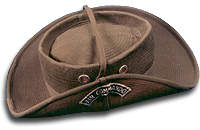 Brigadier General Benjamin Harold King
(9 December 1919-7 October 2004)

General King was born in Addie Lee, Oklahoma, in 1919. He received his high school education in Fayetteville, Arkansas. He entered aviation cadet training in February 1942 at Foster Field, Texas, and received his pilot wings and commission as a second lieutenant in November 1942.

During World War II, he served in the Asiatic-Pacific and European-African-Middle Eastern theaters of operations as a pilot flying P-38s, P-39s, and P-51s. He scored seven victories in air battles and logged 122 combat missions totaling 470 combat hours in the two theaters of operations. During the Korean War, he destroyed two aircraft on the ground, flew 200 combat missions, and accumulated 382 combat hours.

In February 1943, Lt. Ben King was assigned to the 339th Fighter Squadron where he entered the conflict in the Pacific flying a P-38 named "Matilda" after his mother. He shot down three Japanese Zeke fighters-two on 17 July over Kahli and on 1 November he destroyed another over Empress Augusta Bay. He was shot down on 17 July 1943 in his P-38 in enemy territory 400 hundred miles behind Japanese lines. He survived for 5 days in a rubber raft eating seagulls and raw fish, until some friendly natives rescued him and hid him on a Japanese controlled island called Mono (in the Treasury Islands, Western Province, Solomon, Islands). After 60 days, he along with 6 naval aviators, were rescued late at night by a Royal New Zealand AF PBY. Later, he went to the European theatre flying a P-51 called "Matilda II" where he shot down two German FW-190 and one ME-109 fighters near Eisleben, Germany on 11 Sept 1944. On 12 Sept 1944, he shot down another ME -109 near Gransee, Germany. Later in the Korean War, where he flew P-80 and P-51s, he destroyed two more enemy aircraft on the ground.

He graduated from the Army Command and General Staff School in February
1946 and from the Air Command and Staff College in June 1950.

From January 1957 until July 1959, General King was assigned as commander, 4750th Air Defense Group, and later as deputy commander and commander, 4750th Air Defense Wing at Vincent Air Force Base, Arizona. He moved with the wing to MacDill Air Force Base, Florida. In July 1960 he was reassigned as director, Joint BOMARC Missile Test Staff, Detachment 1, Montgomery Air Defense Sector, Eglin Air Force Base, Florida. As the BOMARC Air Defense missile test director at Eglin he took the failing program to a successful conclusion. 
In 1961, he was selected by General Curtis LeMay to form the Jungle Jim Program, later to become the Air Commandos and now the USAF Special Operations Command at Hurlburt Field, Florida with obsolete WWII/Korean vintage aircraft, with spirited and selected men without a well-defined mission. From May 1961 until March 1962, he served as commander, 4400th Combat Crew Training Squadron and 1st Air Commando Group, Eglin Air Force Auxiliary Field #9, Florida, and in April 1962 he was assigned as commander, 1st Combat Applications Group, Eglin Air Force Base, Florida under the Special Air Warfare Center (SAWC). 

On activation of the 4400th, he developed and trained the new Jungle Jim outfit and quickly organized the men and their old aircraft into a well-oiled flying fighting unit for guerrilla warfare. Within 5 months he was sent to Vietnam in November 1961 with the unit to fight the Communist threat under the guise of training Vietnamese AF pilots in guerrilla warfare tactics. He had the first USAF combat flying unit in Vietnam in the 1960s. It was a fast moving unit that had to develop its own techniques to fight the guerrillas in the jungles of Vietnam in a secret war.
He returned to Hurlburt Field, Florida in 1962 to command and develop the expanding Air Commando forces. He later became the commander of the 1st Combat Application Group (CAG), the R&D unit for the Special Air Warfare Center (SAWC), at Eglin AFB, Florida. The 1st CAG's job was to develop new aircraft, armament, munitions and communications for the USAF Air Commando units.

General King was assigned in October 1963 as deputy director, Office of the Secretary of Defense Advisory Research Project Agency Field Unit, Bangkok, Thailand. He was assigned to DARPA in Thailand in search for solutions for the USAF secret war in Southeast Asia. In this position he was able to find excuses for flying combat missions with his old Air Commando units. During this period, he flew some 100 missions in Vietnam in A-1E, AT-28, C-47, L-28 and B-26 aircraft.

He returned to the United States in October 1964 and was assigned to the Aerospace Defense Command. He served as vice commander, Los Angeles Air Defense Sector, Norton Air Force Base, California; as deputy for operations, 28th Air Division and then for Fourth Air Force; and as vice commander, Fourth Air Force at Hamilton Air Force Base California.

In August 1967 he became command inspector general, Headquarters Aerospace Defense Command, Ent Air Force Base, Colorado, and in January 1969 he became director of aerospace safety, Office of the Deputy Inspector General for Inspection and Safety at Norton Air Force Base, California.

General King was qualified in many aircraft to include the T-33, the supersonic F-106 Delta Dart, A-1E, B-26, C-47, AT-28, P-38, P-51, P-80 and others. He flew combat in three wars and accumulated more than 6,000 hours of flying time, including 1,146 combat hours logged in 400 combat missions. His decorations included the Silver Star, Legion of Merit, Distinguished Flying Cross with three oak leaf clusters, Air Medal with 24 oak leaf clusters, Purple Heart and the French Croix de Guerre.

He led the first Air Force counterinsurgency combat unit, Farm Gate, to Vietnam in November 1961 within a short time after organizing the unit in May 1961. The September 2007 Air Force Magazine lists 16 November 1961, Farm Gate deployment to Vietnam, as one of the significant dates in the history of the USAF.

A Special Air Warfare Center Pamphlet in 1964 published this about Benjamin H. King: Col. Ben King was the father of the 4400th Combat Crew Training Squadron and the 1st Air Commando Group."

Maj Gen Leroy Svendsen, a former air commando who served under Ben King in Korea, and flew with him as a young Lieutenant through some hellish aerial combat in North Korea, described him as an unequaled combat leader. General John "Pete" Piotrowski, former USAF Vice Chief of Staff, who served under BG King as a Captain in 1961 at Hurlburt Field, made the following statement: "There were many standout role models, but Colonel Ben King was the kind of leader I strove mightily to emulate throughout my Air Force career. King was driven to fly, fight, and lead men into combat. He excelled at all three."

Four F-15s from the Oregon Air National Guard, Klamath Falls, Oregon gave BG King a missing man fly-by in his hometown of Florence, Oregon on 20 October 2004. It was a tribute to one of our great warriors.

BG King was a long-time member of the Air Commando Association and its prestigious Hall of Fame. He was a consummate leader for the initial cadre of Air Commandos with his proven record in three wars and the credentials to organize and lead the original Air Commandos. He was the only Air Commando leader who had the ultimate Air Force leadership and combat experience pedigree for this task. He truly deserves the special honor and recognition that accompany the naming of a facility in his memory.